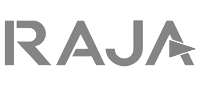 LAGO IN ACTION – Success story at RAJAMedia
Seeing our LAGO software in action with our customers is a special pleasure for us at Comosoft. Since July 8th, 16 country representatives (FR, BE, DE, AT, CH, NL, ES, IT, PT, UK, NO, SE, DK, PL, CZ, SK) have been integrated into the LAGO WEB environment at RAJAMedia and have successfully implemented LAGO into the production stage.
The changeover to a new production software is a challenge for every company, but in 2020 it is associated with additional challenges for companies worldwide due to the corona pandemic. It makes us especially proud that we have managed to complete all user training with RAJAMedia successfully online and are leading RAJAMedia into the future production of all of their advertising material with LAGO. The next big goal is the deployment of LAGO Print in order to be able to produce the printed catalog completely in LAGO in addition to the web catalog.
With the production in LAGO and the introduction of a new advertising material production, RAJAMedia reaches a new level in its conversion to agile processes:
RAJA achieves higher efficiency and productivity of the users
You can include user requests in the development process
Users save time by automating recurring tasks
This enables you to focus on tasks with the highest added value
User requests are structured and stored in a central and homogeneous backlog for further development
Request an Exploratory Demo of LAGO