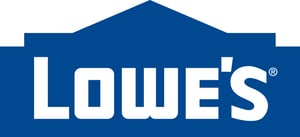 About Lowe's
Founded in 1921, home improvement chain Lowe's has become a Fortune 50 retailer, with over 2,000 locations and 300,000-plus employees worldwide. For virtually any type of building, repair or renovation project, Lowe's has an impressive array of products at affordable prices.
The Challenge

With over 2,000 locations and 300,000- plus employees worldwide, the Fortune 50 retailer produces retail circulars as a major component of Lowe's in-store marketing strategy. Each retail circular is a combination of good design, a consistent brand image, and creating eye-catching descriptions of products on sale.
Comprised of over 400,000 unique SKUs available in store and online, it's no small task to create the multiple versions of circulars need to drive increased customer traffic. Each of the 9,000 brands with products sold by Lowe's provide an enormous amount of data, totaling over 6 million images, logos, text descriptions and other business-critical information.
Solution: Partnering with PureRED

PureRED teamed up with Comosoft to tackle the challenges facing Lowe's. Comosoft had created a remarkable solution for retailers and catalogers—the LAGO platform. By integrating data from PIM systems with related DAM system and marketing planning data, LAGO provides a level of automation for complex printed catalogs, inserts, and circulars.
Fortunately, Comosoft and PureRED have a long and successful history working with legacy systems. Some of LAGO's out-of-the-box features could be used immediately, but due to pricing complexities at Lowe's, a new module had to be developed to accommodate the pricing process. After a thorough analysis, Comosoft was able to bridge multiple data sources to create an efficient, significantly improved workflow.
Outcome
Another significant benefit of the PureRED/LAGO relationship—besides the efficient production of printed circulars—is that retail platform developer Flipp uses this data to populate the weekly section of the Lowe's mobile app for iOS and Android.
The LAGO-customized modules enhance Lowe's IT process in other ways. Using custom calculators, PureRED team members not only build each event and the multiple versions involved, but also prepare individual items for final pricing, ensuring the correct price from Lowe's mainframe is reflected on the final page.
Photos courtesy of Lowes
"LAGO has many additional features that could benefit both PureRED and Lowe's.
We're excited about the opportunities ahead."
- Butler Burdine, PureRED Managing Director
This is only a fraction of how Comosoft LAGO has maximized the efficiency and effectiveness of Lowe's retail marketing operations.
Download the Full Lowe's Case Study